Hey Friends,
Yesterday I ran my first half marathon down in Sunset Beach, NC!
Coastal Race Productions put on a great event & it was an excellent venue to participate in my first race.
My time was 1:55:50
⏱ 8:51/mi. pace
👣 22,000 steps
🔥 2,000 calories burned
But to be honest, the stats have absolutely nothing to do with why I ran the race or what I took away from the experience of finishing.
The night before, I was getting butterflies - even though I told myself this was just another run, I couldn't totally ignore the fact that I was nervous & excited.
When my daughter feels those 🦋's before she does something new, I always tell her: That feeling means that you're doing something important.
But I had forgotten just how intense that feeling can be. It'd been a while since I pushed myself beyond that point of comfort & into that fear those butterflies warn you about.
There's 3 things I took away from the run that I wanted to share with y'all:
👉
The stats don't matter, the other runners don't matter, it's just you out there.
- For the first leg of the race I was too concerned with the other runners around me. I was keeping track of who I was passing & who was passing me. I was so occupied with my relative performance, I even forgot to start my Garmin when the race started.  Around mile 8, my ego had had enough & I realize that I needed to give all that up if I wanted to finish.
👉
Don't change the plan when you're going up hill.
- I have this rule that I never stop in the middle of a run to walk. Sometimes I have to trot at a snail's pace to finish, but I've made a conscious promise to myself, beforehand, that whatever distance I've set out for, I won't stop running until I get there. I almost broke that promise to myself for the first time during this race. There was huge bridge that overlooked the Intracoastal Waterway that we had to cross at mile 12. As I was scaling the bridge I almost stopped for the first time in 3 years of running. I was hurting & the bridge seemed like it was never going to end. But in those 3 years of running I've learned something: You never change the plan when you're going up hill. It seems obvious that doing hard things is only hard because of the hard part. Going into to, we know its not going to be easy, and thats exactly why the task is worth the effort. But when we're in the midst of it we start to negotiate with ourselves & we look for ways to compromise our initial goals to serve our momentary needs. If you want to stop when you get to the top, go for it. But you're not allowed to change plans when it's convenient to do so.  When I got to the top there was just a .5 mile to go. I was so happy that I kept that promise to myself.
👉
Your support system is everything.
Having my family there to cheer me on was the best part of finishing the race. I was worn out when I got to the finish line. But seeing them immediately brought a smile to face & made the whole endeavor worth it. They made me a care package full of my favorite stuff (heavy on the gummy bears🧸) & this awesome sign to put a cap on an exhausting & unforgettable run.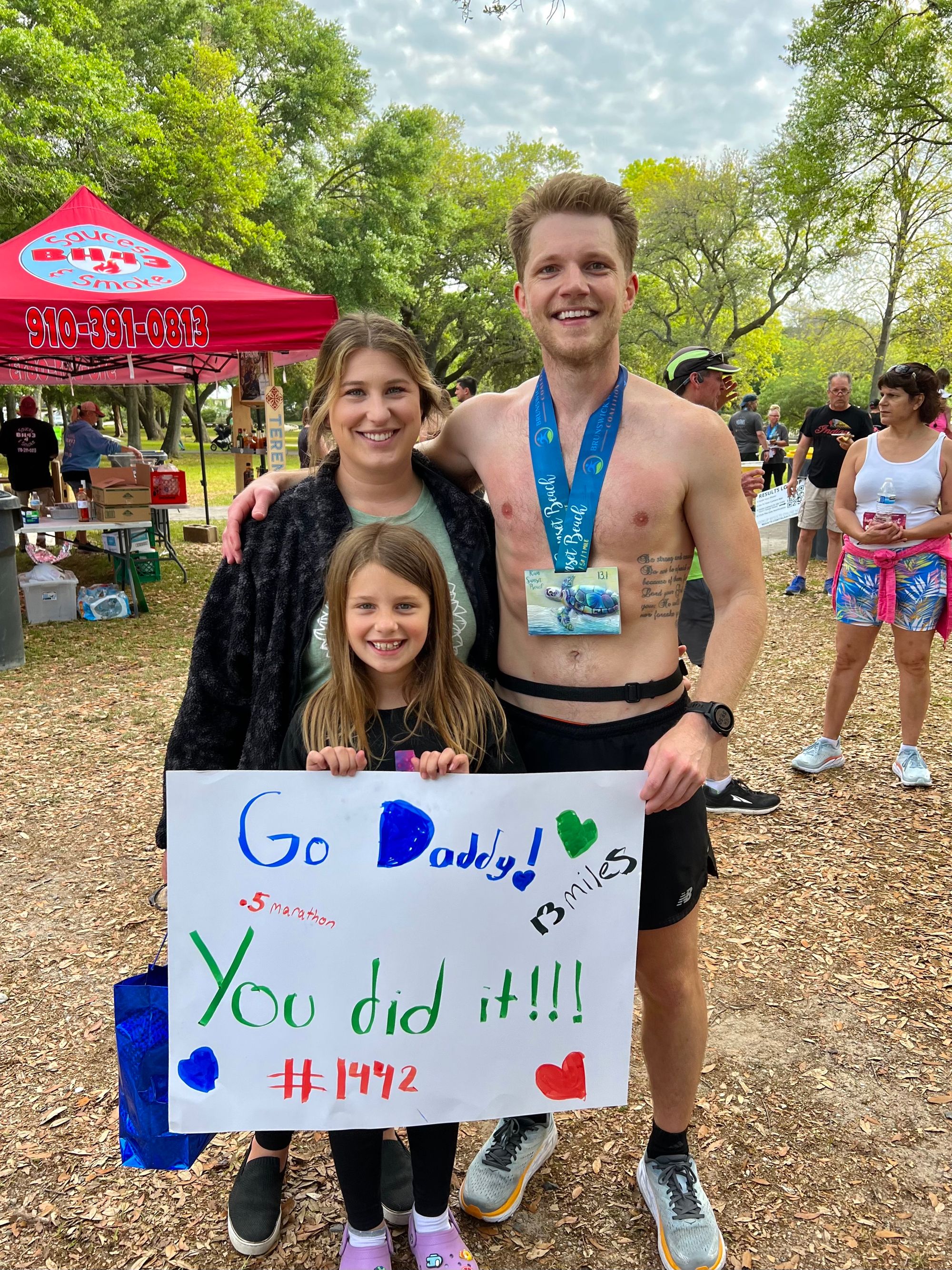 🧠 The Science of the Art of Psychotherapy
This week's book review is on The Science of the Art of Pyschotherapy by Dr. Allen Schore.
📝 Quote of the Week
👉
"Anxiety is the price of the ticket to life; intrapsychic depression is the by-product of the refusal to climb aboard."
From Swamplands of the Soul by James Hollis.